Based on my original story but not 100% follows the original story.I don't know how long it will be and this is my first game.I'll do my best~


THANK YOU SO MUCH!!1000x I'm really appreciate every single comments you give to me!!(。・ω・。)ノ♡
--------------------------------------------------
Cautions : This journal will always changes time to time.

(without notify or minor change)
Updates and fixed all the contents!

Synopsis :

"What's meaning of my dreams..."
"Why does my heart aches every time I'm dreaming about it...."
Gain conscious without any childhood memories and knowing lost her father so sudden. The heroine's mother decided to move to new place and start a new life.
Thought the heroine will having a normal life like another normal kid had however when she was in preschool, she discovery a strange illness.
She couldn't make a physical connect with opposite sex or she will suffer have a rash all over her body or sudden fever however she keep as secret from her mother and lie about her illness.
Since then, she tried less talk or get close any guy/boy although there are only certain of them she can get close without know the cause.
The only male friend she had was Taniyama Yuuya, she met him when junior-school and become her closest friends.

Night of day of her sixteen birthday, she dreaming about her late father and receive a heart
shaped pendant from a little boy at the next day. Then, heroine started curious and about her past and her father's death.
Her fate started to change become of the pendant....
Main Character:
"My past...there is something I have to know about it"
16 / April 3

5'3" / 106 lb

Heroine used to be self-sufficient since her mother was quite busy with her job and yet she doesn't want to be burden to her mother.
A bit sensitive and emotional because of her untold past, however she was grateful to have a trustful and supportive friends by her side.
Obtainable :


*Temporary Images
Sub - Character/Support Characters:
Others: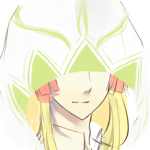 ?????
"The "Strings" has been tangled to your heart.....will you find the end of the thread?
The answer you looking for..."

A mystery hood guy suddenly appears in front of her and told the heroine about sacred behind the pendant.
Amamiya Shizumori (The Flower Boy,Misaki's partner worked) |
Mrs Katsuragi/Nadeshiko(Hikaru's mother)

Leena (Maid) |
Kyle (Butler)
Special Appearances :
Lucas's "Brothers"
Will appears only in Lucas's Route
Toya
Free-lancer cartoonist,Leon's best friend.Toya almost like a "mum" to Lucas.
He is really an excellent cook like Leon. Three of them stayed together in one roof.
Leon Levant
Lucas's Cousin and his sidekick.He look alike Lucas,hardworking,easy-going and cat lover.
Working full-time as a butler/waiter and part time as a model. He always care about his stubborn twins and act almost like a "dad".
The characters will take over following the heroine's childhood memories :-
An unusual dreams the heroine having at the first time she got the pendant.

Side Story :

Others

Queen Diandra - Evelina's Mother |

Naia - Evelina's maid |


Kylen Odhran - Dark Lord's counselor/Right-hand man |

Tamera - The Dark Lord's royal servant

Progress:

CG events : 0%

Programming : 0%

GUI : 60%


Sprites : 15% (Revamp)

Bgs (mbs): 5 %

Writing : 170000 words still in counting...
Extra Info :
1 hidden Character - 2 dialog box -
There are 3 different endings depends on the routes you choose.
| Normal End | Bad End | Strings of Heart End |


GUI :

They thought....

Window size : 1050x700

Window | Mac | Linux


Otome Game | Romance| School | Slice of Life | Fantasy | Ecchi | Supernatural


Rate 16+

Release date : Unknown
Staffs:

Story|Arts|Programming :

Feel free to give a suggestion or share some ideas~


It's will help me to improve and add more ideas on the game.Critic always welcome!
Your feedback is greatly appreciated!!
♪♪♪ヽ( ಥДಥ)ノヽ( ・∀・ )ノヽ( ಥ∀ಥ)ノヽ( ◕ ヮ ◕ )ノ♪♪♪