Based on my original story but not 100% follows the original story.I don't know how long it will be and this is my first game.I'll do my best~


THANK YOU SO MUCH!!1000x I'm really appreciate every single comments you give to me!!(。・ω・。)ノ♡
--------------------------------------------------
Cautions : This journal will always changes time to time.

(without notify or minor change)

Synopsis :

"What's meaning of my dreams..."
"Why does my heart aches every time I'm dreaming about it...."
Hikaru lose her father at a young age. Meanwhile, someone she most trusted abandoned her then disappeared without reasons.
Furthermore bad thing has happen, she was unconscious for a quite long after an unexpected accident happens to her.
When she woke up, she doesn't remember very much about her past after that accident.
She was changes from happy go lucky to a quiet little child.

Eleven year has passed after her father's death.
One day,a strange boy has send a pendant in heart shape key as birthday gift by anonymous sender on her 16th birthday.
After that day, she regain one of her childhood memory then day after day, she started having a weird dreams.
Then everything started to change her life after mysterious hooded guy appears, slowly it reveal the secret behind the pendant and her past..

Main Character:

"My past...I want know about them.."
16 / April 3

5'3" / 106 lb
After got tremor on past, Hikaru almost barely talk or get close to a guy. She's instinctively hate and uncomfortable to get close to them are unclear to explain.
Only Taniyama she can get along with. Before anniversary of her dad's death, Hikaru dream the last memory of her father and tried to tell her something.

After she received the pendant from Mitsu. She started to have a weird dreams and memory of her childhood.
Furthermore, her life become more complicated than before when she try seek for the answers.
Obtainable :


*Temporary Images
**Dreams CV/Seiyuu ROFL
Sub - Character/Support Characters:
Others:
Amamiya Shizumori (The Flower Boy,Misaki's partner worked) |
Mrs Katsuragi/Nadeshiko(Hikaru's mother)

Leena (Maid) |
Kyle (Butler)
Special Appearances :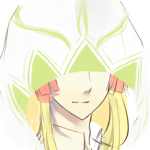 ?????
"The choice are depend on you....think it wisely."Lucas's "Brothers"
Will appears only in Lucas's Route
Toya
Free-lancer cartoonist,Leon's best friend.Toya almost like a "mum" to Lucas.
He is really an excellent cook like Leon. Three of them stayed together in one roof.
Leon Levant
Lucas's Cousin and his sidekick.He look alike Lucas,hardworking,easy-going and cat lover.
Working full-time as a butler/waiter and part time as a model. He always care about his stubborn twins and act almost like a "dad".
Here the characters will take over for sides story following with the heroine's dreams :-

Side Story :

Others

Queen Diandra - Evelina's Mother |

Naia - Evelina's maid |


Kylen Odhran - Dark Lord's counselor/Right-hand man |

Tamera - The Dark Lord's royal servant

Progress:

CG events : 0%

Programming : 0%

GUI : 55%


Sprites : 15% (Revamp)

Bgs (mbs): 5 %

Writing : 100000 words still in counting...
Endings :
There are 3 different endings depends on the routes you choose.
| Normal End | Bad End | Good/Romantic End |


GUI :

Window size : 1050x650

Window | Mac | Linux


Pure Otome Game | Romance| School | Slice of Life | Fantasy | Ecchi


Rate 16+

Release date : Unknown
Staffs:

Story|Arts|Programming :

Feel free to give a suggestion or share some ideas~


It's will help me to improve and add more ideas on the game.Critic always welcome!
Your feedback is greatly appreciated!!
♪♪♪ヽ( ಥДಥ)ノヽ( ・∀・ )ノヽ( ಥ∀ಥ)ノヽ( ◕ ヮ ◕ )ノ♪♪♪